Damon aime jouer de son humour arrogant voir ironique qui lui est très personnel. Sa marque de fabrique c'est bien sûr les petits mots tel que "Oops" ,"Touché", "Ouch","Yep","Ouep","Move", "Nope" "Oh yeah" "Shut up" mais aussi ses fameuses répliques que l'on va qualifier de Damonesques !! Bonne lecture!
~¤~SAISON 3~¤~
Episode 1:
"You know, you should learn to knock. What if I was... indecent?" / "Tu sais que tu devrais apprendre à frapper. Que faire si j'étais.. indécent?"
"You don't want that, You want the cheap young stuff over by the cheap young people"/ "Tu n'en veux pas, tu veux les trucs simples avec les jeunes simples" à une fille
"I love high school parties" / " J'adore les fêtes lycéennes"
"Is his stash any good?"/ "Son herbe est bonne?"
"Hello, birthday girl"
"Party central, I'm by the... Punch bowl, Oh, oh, gotta go... gotta go break up beer pong" / " Au milieu de la fête, je suis près.. du punch. Oh oh je dois.. je dois stopper le bière pong!"
"Saw your later artwork in Tennessee. Waling a fine line there, my friend" / " J'ai vu ta dernière œuvre d'art au Tennessee. Tu marches sur une corde raide là mon ami"
"He's flipped the switch, full blown ripper" / "Il a appuyé sur le bouton, éventreur en puissance"
Episode 2: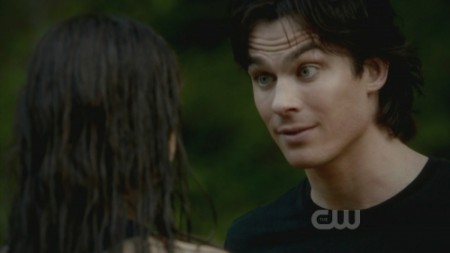 "Yeah, well, busy dating a dead fake girlfriend and all"/ "Ouais trop occupé à sortir avec ma fausse petite amie morte et tout ça"
"Where he's binge drinking on the country folk" / "Où il se saoule sur une musique country"
"You gonna walk into a campsite full of werewolves, roast a marshmallow, and wait for Stefan to stop by?" / "Tu va rentrer dans un camp de loups garous et te faire un marshmallow en attendant Stefan?"
"But we are out of here before the moon is full and I'm werewolf bait. Unless you wanna relive that whole deathbed kissy thing" / "Ok mais on part avant que ce ne soit la pleine lune , et que je sois un appât à loups. A moins que tu ne veuille revivre le truc du baiser sur le lit de mort?"
"Here, doggie, doggie"/ "Ici le chien-chien"
"Might want to take it up with your girlfriend. You don't want her chasing you, I'd stop with the late-night phone calls" / "Tu devrais le dire à ta copine, si tu ne veux pas qu'elle te cherche j'arrêtais les appels tardifs à ta place"
"He's an insufferable martyr that needs his ass kicked.." / "C'est un insupportable martyr qui mérite une bonne raclée.."
"You had a bag full of weapons and a teacher with an eternity ring. You could have kept going" / "Tu avais un sac rempli d'armes et un professeur avec une bague de résurrection. Tu aurais pu continuer."
"Because when I drag my brother from the edge and deliver him back to you, I want you to remember the things you felt while he was gone." / "Parce qu'une fois que j'aurais sorti mon frère de tout ça et que je te l'aurai ramené , je veux que tu te souviennes ce que tu as pu ressentir quand il n'était pas là"
Episode 3
"You're interrupting my drink"/ "vous interrompez ma boisson"
"You know you were dreaming about me. Explains the drool"/"Tu sais que tu rêvais de moi. Explique la bave"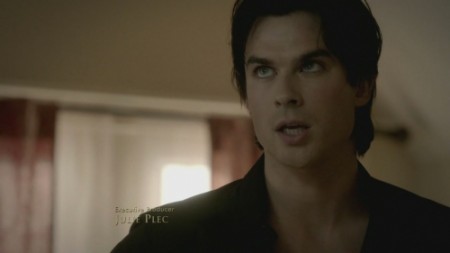 "It came to me in a dream. I was naked. You would have loved it"/"Ca m'est venu en rêve j'étais nu. Tu aurais adoré"
"Well, let's just say he's not there to meet Oprah"/"Eh bien disons juste qu'il n'est pas là bas pour voir Oprah"
"I sure Hope we find him, 'cause it would suck if the last momento of Stefan was that crappy old necklace"/"J'espère vraiment qu'on va le retrouver parce que ce serait con que le dernier souvenir de Stefan soit ce vieux collier pourri"
"Ahh! I'm shocked! Stefan's not a virgin?"/"Ahh! Je suis choqué Stefan n'est pas vierge?"
"Get dressed. You're all road-tripy and gross"/"Habille toi tu es en mode voyage et sale"
"She's not going anywhere until she's got you checked into vampire rehab and on the mend"/"Elle n'ira nulle part jusqu'à ce qu'elle soit assurée que tu sois en cure de désintox pour vampires et sur le chemin de la guérison"
"What can i say? I'm a thrill seeker"/"Qu'est-ce que je peux dire, Je suis amateur de sensations fortes"
"You want a partner in crime? Forget Stefan. I'm so much more fun"/"Tu veux un partenaires de crimes . Oublie Stefan .Je suis bien plus amusant"
Episode 4
"She's in denial"/"Elle est en phase de déni"
"So mayor Lockwood called your gay ex-husband to torture your vampire daughter"/ "Alors le maire Lockwood a appelé votre ex mari gay pour torturer votre fille vampire"
"I actually happen to love mind control, myself"/"En faite personnellement j'adore le pouvoir de contrôler l'esprit"
So, Bill, I hear you're into the whole daddy-daughter vampire torture thing/Alors Bill j'ai entendu dire que vous étiez en mode "papa tueur de fille vampire?"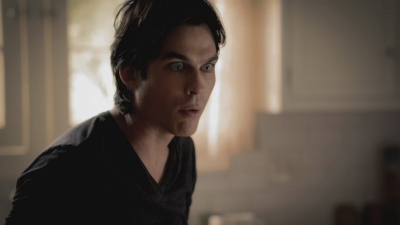 "Wait, wait, Houston, we have a problem"/" Attendez attendez Houston on a un problème"
"Your temporary funeral"/"Tes funérailles temporaire"
"You know, with all this behavioral modification going on around here, I almost forgot how good blood tastes when it's...Fresh"/"Tu sais toutes ces modifications de comportement par ici, j'ai presque oublié le gout du sang quand il est frais "
"Bummer. I love a good girl fight"/Déprimant. J'adore un bon combat de fille
"Ric, no hard feelings, all right? I was on a bit of a tear. Everyone was trying to tell me how to behave "/" Ric sans rancœur ok? J'étais sur les crocs. Tout le monde me donnait des ordres "
"I'll accept written apologies only"/"Je n'accepte que les excuses écrites "
Episode 5
"Not to worry. Mystic Falls and I are on a bit of a break"/"T'inquiète pas Mystic Falls et moi on a fait une petite pause"
"I thought we might want to stretch our legs. Take a break from the sexual tension."j'ai pensé qu'on pourrait vouloir se dégourdir les jambes . Prendre une pause de la tension sexuelle"
"I'd say you were desperate and lying. Or drunk. Or desperate, lying and drunk" /"je te dirais que tu es désespérée et en train de mentir ou saoule ou désespéré en train de mentir et saoule "
"Stop with the teeny bopper drama. Focus"/"Arrête avec ton drame d'adolescent idiot. Concentre toi"
"I wouldn't have done it for you"/"Je n'aurais jamais fait ça pour toi"
"I shouldn't have left. I promise you... I will never leave you again/Je n'aurais jamais du partir" / Je te promets que je ne te laisserai plus jamais seul
Episode 6
Hey, the 2 brunettes on the staircase owe me a persian rug/Hey les deux brunes dans l'escalier me doivent un tapis persan
We have a new housemate. Barbie Klaus /On a une nouvelle colocataire Barbie Klaus
Oh, you know. Journaling, reading, shaping his hair /Oh tu sais écrire , lire , arranger ses cheveux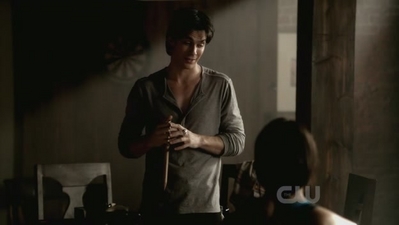 Is that the bell? Oh...Ring! Ring! Don't want to be late" /C'est la sonnerie? Oh dring dring ! Tu ne veux pas être en retard
What? Are you going o bench press a vampire?/Quoi tu compte battre un vampire au développé couché?
Come on, Buffy!/Allez Buffy!
You called. I'm here. What's your plan, oh warrior princess?/Tu as appelé je suis là. C'est quoi ton plan princesse guerrière?
Compulsion or not, Stefan's high on human blood, Ok? A lot of it/Hypnose ou pas Stefan est en pleine euphorie avec le sang humain ok. Beaucoup de sang.
Wherever Stefan goes, the blond ponytail tends to follow/Peu importe où va Stefan , la blonde à queue de cheval à tendance à le suivre
Get a new boyfriend/Trouve toi un nouveau petit ami
Well, I could be mean if that's what you're into/Eh bien je pourrais être méchant si c'est-ce que tu aimes
Episode 7
Greetings, blondie. Witchy/Salutations Blondie, sorcière
When I kill someone, they're supposed to stay dead/Quand je tue quelqu'un il est supposé rester mort
Ah! But remember back when you liked me and we conspired to kill Uncle werewolf Mason Lockwood?/Ah! Mais souviens toi quand tu m'aimais bien et qu'on conspirait pour tuer Mason Lockwood l'oncle loup garou?
Let's get to it. I killed you. You want revenge. Get in line/Allons y je t'ai tué. Tu cries vengeance .Fais la queue
You put a snag in my only other Klaus lead/Tu as fais un accro dans la laisse de Klaus
There's no way this whole buddy-trust act is real/Il n'y a pas moyen que cette bromance soir réelle
Well! Sometimes... I do things I don't have to do/Et bien des fois je fais des choses que je ne devrais pas faire
Episode 8
Yeah. It's the Lockwood diaries, pictionary style /"Oui. C'est le journal des Lockwood, mais en mode Pictionary.
You been on this bunny diet for the better part of 50 years, so how is it that Saint Stefan, of all people, gets good at a drinking game?" /Tu as été au régime lapin pendant presque 50 ans, alors comment le saint Stefan est-il si bon au jeu d'alcool?
Because I have to, Stefan. Because you're in this mess with Klaus because you saved my life, because I owe you. And I can't just leave you in a cell to rot./Parce que je le dois, Stefan. Parce que tu t'es mis dans cette merde avec Klaus pour me sauver la vie, et parce que je te suis redevable. Et je ne peux pas te laisser comme ça dans une cellule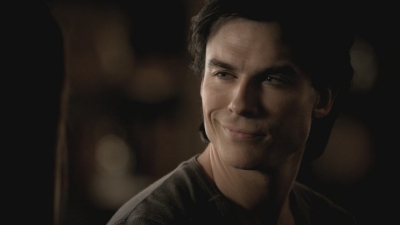 Episode 9 :
Oh really. 'Cause you know vampires are usually so reliable."/ Oh vraiment parce que d'habitude, ces vampires originaux sont si dignes de confiance.
Her lying, mama-killing, dagger-happy brother. Wolfsbane's ready."/ Son frère menteur ,fou de dagues et qui a tué sa mère . L'aconit tue -loup est prête

Here's my RSVP, Hybrid/ Voilà mon carton d'invitation, Hybride
I'd offer you a drink but Katherine tells me you're more of a vampire on the rocks guy."/ Je t'offrirai bien à boire mais Katherine m'a dit que tu es plutôt du genre "vampire"
What the hell's wrong with you? You're not supposed to witchy migraine me./ Qu'est-ce qui ne va pas chez toi ? Tu n'es pas supposée me donner des migraines de sorcières
You couldn't just break his neck?/ Tu ne pouvais pas simplement lui briser le cou?
Episode 10
Uh, you have your choice... Bloody Mary, screwdriver. Brunch in a bottle/Hum tu as le choix bloody mary , vodka..petit déjeuner en bouteille
Come on, Ric. I can't drink all this by myself. I mean, I can, but then somebody's getting naked /Allez ,Ric Je ne pourrai pas boire ça tout ça , tout seul enfin je pourrais, mais après quelqu'un devra se déshabiller
Cute, blonde bombshell, psycho/Mignone , bombe blonde pas dur à trouver
You know me... Never miss a chance to plan an epic failure/ C'est tout moi , je ne rate pas l'occasion de planifier un gros échec
Ah, such a buzz kill, my baby bro/Sacré rabat joie mon p'ti frère
Yep. So all we have to do is find 4 coffins, and voila!/Donc tout ce qu'on doit faire c'est trouver 4 cercueils et Voilà !
No one else on your family's chritmas list has to die/Aucune personne de ta liste de noël ne doit mourir
Frying pan, fire. Not an option/Poele à frire , feu. Ce n'est pas une option
That's why I hate witches. So fickle, passive-aggressive/C'est pour ça que je déteste les sorcières tellement inconstantes passive agressives
The witchy spirits aren't a big fan, and they used their juju to screw with my daylight ring/L'esprit sorcier n'est pas vraiment une grande fan! Et ils ont utilisé leur joujou pour bousiller ma bague pour la lumière du jour
Was it brotherly love, guilty conscience/C'était de l'amour fraternel ou de la culpabilité ?
Ah, deflection. That's not going to work on me. I invented that! /Ah déviation , ça marche pas sur moi JE l'ai inventé!
You go after Klaus, you're going to have to be cutthroat and devious. I'm so much better at that than you/Tu en as après Klaus , tu vas devoir être un égorgeur rusé . Je le fait tellement mieux que toi
What? Klaus is allergic to dust?/Quoi Klaus est allergique à la poussière ?
Episode 11
Relax, brother. Your hair won't fall out./Relax, mon frère. Tu ne veux pas perdre tes cheveux
This hybrids, they are bringing the neighboorhood down/Ces hybrides ne vont vraiment pas bien avec le voisinage
Well I'm sure it starts with a "Stef" and ends with a "n". I'm gonna get a drink, write a check and then we're out. /Eh bien je suis sur que ça commence avec un "Stef" et se termine par un "n" Je vais aller prendre un verre , faire un chèque et on se casse
Look at what the cat drag down. Nice veste/Regarde ce que le chat a ramené . Jolie veste
Carol, don't take it in the wrong way, but do you realize that you've been kissing the ass of an immoral hybrid who ruined your son's life?/Carol ne le prenez pas mal mais vous réalisez que vous avez été flatté par un hybride immoral qui a ruiné la vie de votre fils
Liz, I'm impressed, you're all strong and sheriffy/Liz je suis impressioné .Tu es forte et sheriff
No dead hybrids at a founders party/Pas d'hybrides morts à la fête des fondateurs
Don't give me that no humanity crap. You can't just flip your switch. Your switch is fried, Stefan, just like your brain. You want to take Klaus, you want to beat the villain, you got to be smarter" /Me sers pas ton refrain sur la non -humanité . Tu ne peux pas changer comme ça . T'es grillé comme ton cerveau . Tu veux abattre Klaus , tu veux battre le méchant . Tu dois être plus intelligent .
He was the better villain(...)Well, I can't help be a little proud/Il a été le meilleur méchant (…) Je ne peux pas aider mais je suis fière
Episode 12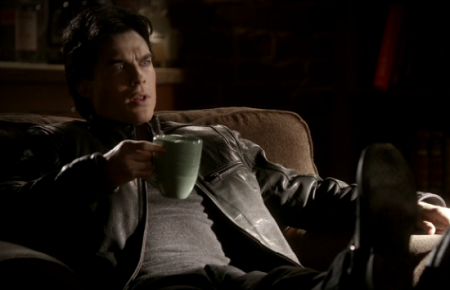 i call shotgun / j'appelle le fusil de chasse
We kissed. Now it's weird. Have a great trip /On s'est embrassé . Maintenant c'est bizarre . Passe un bon road trip
Nothing. They're all dead/ rien elles sont toutes mortes
Come on, Ric, it's a fact of life. A girl that hot, that smart...Damage/Voyons Ric . C'est un fait de la vie . Une fille sexy , intelligent , y a un truc qui cloche
Strolling the halls. I like to wave at the newborns through the window/Je flânais dans les couloirs j'aime faire coucou aux nouveaux par la fenêtre
Ah, looking for a bunny. You're good. For now/je cherche un lapin. Tu es bon pour le moment
I proved your theory... Diagnosed psycho case. You're welcome/J'ai trouvé ta théorie . Diagnostic : psychopathe! … de rien
I take it you two had a heart to heart. And I take it you don't want to talk about it. Noted/Je suppose que tu as un cœur à cœur et tu ne veux pas en parler . C'est noté
Episode 13
Elijah, my favourite original, back from the dead. You cleaned up nice /Elijah mon originel favori ,revenu des morts . Belle mise en scène
Dear Elijah, let's get together, plot the destruction of your brother. Xo, xo" /Cher Elijah , mettons nous ensemble pour préparer la destruction de ton frère . Xo xo
Eat. I thought we agreed that we would leave the grumpy Stefan at home" /Mange . Je pense que nous sommes d'accord sur le faite que nous voulions laisser le grincheux Stefan à la maison
Episode 14
Can we go back in time to the old Stefan who cared if Elena lived or died? /Pouvons nous retourner au temps où l'ancien Stefan se souciait qu'Elena vive ou meurt ?
It's not bad enough they're moving into town. Now they want a housewarming gift?/Comme si c'était déjà pas assez grave qu'ils débarquent en ville . Maintenant ils veulent un cadeau de pendaison de crémaillère?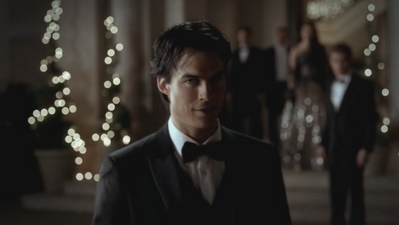 You pissed off enough originals to last a lifetime/Tu as assez énervé assez d'originaux pour toute une vie
Surprise, surprise. Nice tux/Surprise . Surprise .Jolie costume
You have to tell me before you walk into a lion's den/Tu dois me dire avant de te jeter dans la gueule du lion.
Stop staring. It's creepy/Arrête de fixer. C'est flippant
Well, you're no dog yourself/Et bien tu n'es pas non plus un chien
No, I'm mad at you because I love you/Non je suis énervé car je t'aime
Easy on the hand. Guy's a quarterback/Vas y doucement avec la main. Il est quater back
Far be it from me to cause a problem/Peut être un peu . Loin de moi l'idée de causer des problèmes.
Rejected by the captain of the football team. Welcome to adolescence/ Rejetée par le capitaine de l'équipe de football. Bienvenue dans l'adolescence.
Episode 15
You think Rebekah had to compel me?/Tu penses que Rebekah m'a obligé à le faire ?
That's great. Klaus'll finally be dead. We win/Génial, Klaus va enfin être mort! On gagne !
Why do you look like someone just shot a panda bear?/Pourquoi tu a l'air d'une personne qui vient juste de tirer sur un panda ?
It's a win-win/C'est gagnant-gagnant
See? It's democracy in action/Tu vois c'est la démocratie en pleine action!
Join me for a little victory drink?/Joins toi à moi le verre de la victoire !
Why are you so extra broody? Didn't you see the way we stood up to Elena? I like you on my team. Must have driven her nuts/Pourquoi est tu si mélancolique ? Tu n'as pas vu la façon dont on s'est levé pour Elena ? J'aimerais t'avoir dans mon équipe ? Ca là rendue dingue
Are you with the sexy psycho doctor? /Est tu avec le docteur psycho sexy ?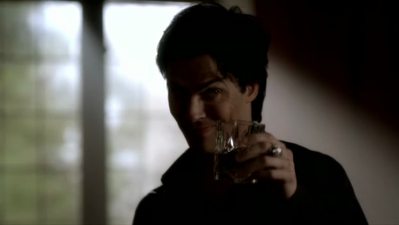 I'm a little embarrassed to admit, but when it comes to killing thousand-year-old resurrected witches, I'm a little rusty /Je suis un peu embarrassé de l'admettre mais quand il faut tuer des sorcières ressuscitées de mille ans je suis un peu rouillé
A, what if she's with Esther? B, what if she can't cut her off? C, I don't know how any of this stuff works, and, D, neither do you /A et si elle est avec esther ? B et si elle ne peut pas l'empêcher ? C je ne sais pas comment ces trucs marchent et D toi non plus
Worst-case scenario, simple mechanics. Can't draw power from a dead battery./ Le pire scénario , la mécanique simple je ne peux pas prendre de puissance d'une batterie morte
Well, what if I told you I had a less diabolical plan?/Et si je t'avais dit que j'ai un plan moins diabolique ?
You didn't know I was friends with your mummy? Yeah, we have a lot in common. She hates you as much as I do/Tu ne savais pas que j'étais son ami ? Oui, on a beaucoup en commun. Elle te deteste autant que moi
Cause I'm not blind. I see what's been going on around here. Hanging by threats, Stefan, barely over your last ripper binge, and all you want is to be the old Stefan again/Parce que je ne suis pas aveugle , je vois très bien ce qui se passe ici , pendu à des menaces Stefan à peine sorti de ta dernière bringue d'éventreur . Et tout ce que tu veux , c'est redevenir l'ancien Stefan
Spend 146 years with someone, you kind of start to pick up on their tells./Passer 146 ans avec quelqu'un tu commences à le connaitre
It's for the best. I'm better at being the bad guy anyway/C'est mieux comme ça , je suis meilleur à être le mauvais garçon de toute manière .
Episode 16
Well, I guess I could rip out Dr. False Accusation's throat or maybe her tongue. You know, I could chew it up in little, tiny pieces and feed it to the squirrels /Je pense que je pourrais arracher la gorge Du Dr Fausse Accusation ou peut être sa langue . Tu sais je pourrais la déchirer en toutes , toutes petites pièces et la donner aux écureuils
Should I send lasagna?/Dois je envoyer des lasagnes ?
I'm mean . You hate me. The Earth is back on its axis/Je suis méchant . Tu me déteste . La terre est revenue dans son axe

"Dear diary, the chipmunk asked me my name today. I told him it was Joe. That lie will haunt me forever"/"Cher journal, le chipmunk, m'a demandé mon nom aujourd'hui . Je lui ai dit que c'était Joe . Ce mensonge me hantera pour toujours".
I was hoping we could hang. You know, little brother bonding. I mean, I know we don't actually "hang out." We team up. We join forces, activate our wonder twin powers /Je voulais qu'on traine , faire marcher la relation fraternelle . Je sais qu'on nous n'avons pas vraiment 'trainé ' . Nous faisons équipe . On joint nos forces. Activons nos merveilleux pouvoirs de jumeaux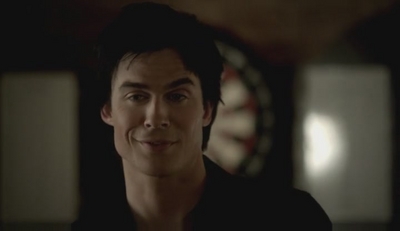 Oh she devil at 9'0 clock! /Oh elle est diable à 9:00 !
You know, quitting blood cold Turkey after a ripper binge, probably not the best approach. Every time you play that all-or-nothing game, you eventually leave a trail of bodies, so I'm thinking now's a good time to pay our old friend moderation a visit/Allez tu sais arrêter le sang de dinde après un bon massacre n'est certainement pas une bonne idée . A chaque fois que tu joues ton petit jeu , tu laisses des corps derrière toi donc c'est le moment de rendre visite à ta vieille amie , la modération
You know, you don't have to disguise your true motives. Blondie bex. If you want more sex, just ask for it /Tu sais , tu n'as pas besoin de masquer tes réelles motivations , blondie Bex . Si tu veux plus de sexe , il suffit de demander
You'll have to excuse my little brother. He's jonesing for some o-positive/Tu dois excuser mon petit frère , il a désespérément besoin d'un peu d'o positif
Oh, right. Sage. Speaking of great sex!/"J'ai connu une Sage une fois , en parlant de sexe !
It's been a hoot and a half, but it's boys night, and you weren't invited/On s'est bien marré mais c'est une nuit de mecs et tu n'es pas invitée
What? Creepy, suicidal guy?/Quoi? bizarre, le gars est suicidaire ?
It's dinnertime. Have a bite/C'est l'heure du diner , mords la
I snatched. You eat. I erase/J'attrape. Tu manges. Je nettoie
Relax, Elena. Just a little experiment. There's no need to make this more dramatic than it needs to be/Relax Elena . C'est qu'une petite expérience. On n'a pas besoin de rendre ça plus dramatique que ça doit l'être
Before you now it you'll be the King of Moderation/Avant que tu ne connaisse ça . Tu vas être le roi de la modération
No more no humanity Stefan. There's a road called recovery, and we are on it/Plus d'humanité Stefan , il y a une route appelée convalescence et nous sommes dessus
Whenever you go too far, I will be there to pull you back, every second, every day till you don't need me. 'Cause right now... You're all I got /Chaque fois que tu iras trop loin , je serais là pour te ramener , chaque seconde , chaque jour jusqu'à ce que tu n'ai plus besoin de moi . Parce que maintenant tu es tout ce que j'ai
Episode 17
Ready to ditch this house of horrors?/ Alors prêt à partir de la maison des horreurs ?
Because we're vampires, Elena. We need human blood to survive. We're predators, not puppies /Parce que nous sommes des vampires, Elena. Nous avons besoin de sang humain pour survivre . Nous sommes des prédateurs , pas des chiots
Oh, yeah, back when you two were in love, it was all rainbows and unicorns. /A oui retour quand vous deux étiez amoureux ce n'était que licornes et arcs en ciel
Ric, the world can't just stop just because you're a psychotic serial killer./ Ric le monde ne peut pas s'arrêter juste parce que tu es un tueur psychopathe par accident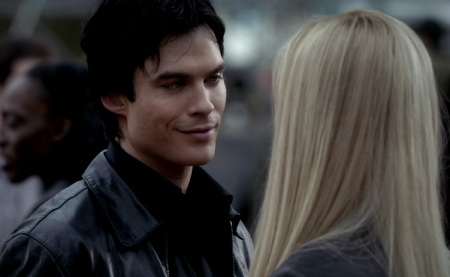 Do I have to tell you that you're sexy when you're bitchy?/ Personne ne t'as jamais dit que tu es sexy quand tu fais ta garce ?
You know what they say. Two's company. Three is a party./Tu sais ce qu'on dit :Deux c'est la compagnie , trois c'est la fête
Slow down, brother/Allez ralentis frérot
Control ,rember? Doesn't matter whether it's blondes or blood bags, same principles apply /Le contrôle tu te souviens , peu importe que ce soit des blondes ou des poches de sang . C'est le même principe .
Own it, live it, love it. Stop being ashamed of who you are/Possède le , vis le , aime le . Arrête d'avoir honte de ce que tu es .
Now, unless you're interested in a Sage-Rebekah sex sandwich, I suggest you make yourself... Scarce/ Maintenant à moins que tu sois intéressé par un truc à trois avec Sage et Rebekka ? Je te suggère de te faire Rare
All right, miss master seductress, where's our victim?/Ok miss pro en séduction où est notre victime ?
Hope's a bitch, Sage/L'espoir est une salope , Sage
Just making sure the witch didn't turn you into a toad or a block of salt /Assure toi juste que la sorcière ne va pas te transformer en crapaud ou t'enfermer dans un bloc de sel
Tu es heureux , je suis heureux/ You're happy , i'm happy
You know, Stefan, I'm a philanthropist. I make the world a better place. Restoring bridges, landmarks, and... Historical signs made of the same white oak as the wickery bridge /Tu sais Stefan, je suis un philanthrope , je fais du monde un meilleur endroit . Restauration de ponts , des points de repères et des signes historiques concernant le même chêne blanc que le pont de wickery
I sold my rage. Phew. You should have seen me/J'ai vendu ma rage … tu aurais du me voir
Game's back on, brother. Let's go kill some originals/Le jeu reprend frérot. Allons tuer quelques originaux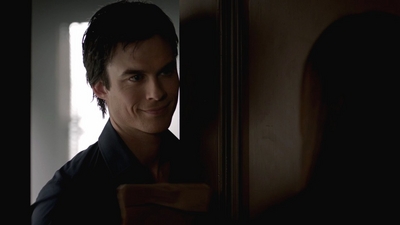 Episode 18
Bonjour mon rayon de soleil
J'ai dit j'ai compris. Arrête la micro gestion
Sa morale devient vraiment contestable quand il pense à la vengeance
Barbie , le gars du bus ?
Are you telling me that your vampire hating alter ego has a stake that could kill an entire line of vampires, possibly mine?/Non ne me dit pas que ton alter ego qui hait les vampires a un pieu qui peut tuer une lignée entière de vampire probablement la mienne ?
Episode 19
Une photo ? De quoi, notre virée à Disneyland ?
Je suppose que tu pensais que ce petit voyage pouvait t'aider à t'en rendre compte, n'est-ce pas ? Ou peut être tu espères que je vais foutre ça en l'air donc je peux juste prendre cette décision pour toi, ai-je tord ? Ai-je tord ?
Episodes 20
Je ne sais pas si c'est le meilleur moment de partir pour une quête spirituelle Ric ?
Je pense à un corsage couleur gardenia … évidement tu ne veux pas la poignarder accidentellement dans la poitrine avec une épingle . Cela pourrait être gênant
J'ai besoin d'un conseil médical pour un ami , Alaric. Tu te souviens de lui . A peu près 1m90 , il essayait de te couper en morceaux
Jeremy a fait une petite donation de sang Gilbert pour ton sort de localisation
Oh il a déjà un frère , ne le sois pas, tu sais territorial ou autre chose
J'étais ivre quand je t'ai dit ça
Désolé de t'avoir tué …deux fois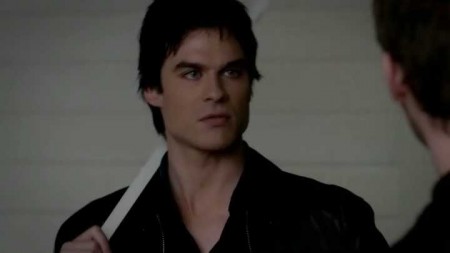 Episode 21
Ce n'est pas de ma faute , c'est celle de Bonnie , la banque de sang
Je fais des choses comme laisser mon ami mourir avec dignité quand j'aurais du le tuer tout simplement
Je suis désolé , j'avais oublié qu' elle était un modèle fiabilité .
N'espère pas trop , ça pourrait très bien n'être qu'une petite scout
Je dois dire que je suis dans l'équipe de Bonnie cette fois si
Quoi qu'est-ce que ça veut dire , Bonnie ? Je ne parle pas "le sorcière"!
On a gagné Stefan ! Allez Stefan dit le ,une fois de plus avec sentiment!
Cela à juste pris un siècle et demi
Tu sais comment cela fonctionne Stefan, elle va probablement faire la liste des pour et contre et à la fin de la journée nous botter les fesses à tous les deux
Episode 22
Pas quand tu as un défilé de vampires à ta disposition.
Est-ce que je t'ai dit récemment à quel point j'apprécie que tu ne sois pas le frère le plus stupide sur Terre ?
Not, Hello ! Did that commotion give you brain damages ? His lunatic siblings will kill you the first chance they get /Non salut , Est-ce que cette commotion t'as endommagé le cerveau ? Ses cinglés de frères et sœurs te tueront à la première occasion qu'ils auront
No no no no ! did i mention no ? Oh come on /Non non non , non non. Est-ce que j'ai mentionné non ! Oh aller !
I'm not half way out of Viginia and Elena sells our souls to the Originals /Je ne suis pas à la moitié du chemin jusqu'en Virginie , et Elena vend nos âmes aux originaux ?
You know what else is her call ? Everything bad ever /Et tu sais qu'elle est son autre décision ? Le pire
L'attraper , la bâillonner et la jeter dans une cage. Je ne sais pas tout sauf faire confiance à Elijah ! (…) c'est donc l'éternelle différence entre toi et moi . Mon frère.
Ce n'est plus qu'une question de temps sexy Bex
Quoi ,pour que nous ayons un au revoir épique Stefan ?
Tu es toujours énervé ? J'imagine que boucle d'or t'as semé
You want a love that consumes you. You want passion and adventure and even a little danger. I want you to get everything you're looking for, but right now i want you to forget that this happened /Tu veux un amour qui te consumes . Tu veux de la passion et de l'aventure et même un peu de danger . Je veux que tu obtiennes tout ce que tu recherches , mais maintenant je veux que tu oublies ce qui vient de se passer