Episode 6
Liz: You don't have to take my memories away. I'll keep your secret. Look, if you're worried about them, just say you compelled me. I won't tell. I'll never do anything to hurt you/Tu n'as pas besoin d'effacer ma mémoire. Je garderais ton secret. Ecoute si tu t'inquiète à propos de ça je leur expliquerais. Je ne dirias rien. Je ne ferais jamais rien qui pourrait te blesser.
Stefan: I know what you're gonna say to me/ Je sais ce que tu vas me dire
Elena: Then let me say it. I've been so selfish because I love you so much and I know how much you love me but it's over. Stefan, it has to be/ laisse moi le dire. J'ai été si egoiste pas ce que je t'aime tellement mais c'est fini, Stefan, ça doit être ainsi.
Stefan: Elena, i…/Elena je ..
Episode 9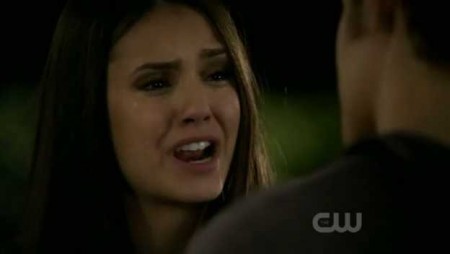 Elena: I wanted to know the truth, Stefan and I got it. It's not just me that's in danger. It's Caroline and it's Tyler and its Bonnie. They're all part of breaking the curse. I can't blame anyone else anymore because it's not because you came into town or because you and i fell in love. That's not why everyone that I love is in danger. It's because of me, everything is because of me/je voulais la vérité Stefan et je l'ai. Je ne suis pas la seule à être en danger, il y a aussi Caroline, Tyler et Bonnie. Ils sont out impliqués pour briser la malédiction. Je ne peux plus rejeter la faute si qui que ce soit maintenant, parce que ce n'est pas du faite que tu sois venu en ville ou parce que nous sommes tombés amoureux. Ce n'est pas à cause de ça que tous ceux que j'aime son en danger. C'est à cause de moi ,tout est de ma faute. (Et elle fond en larmes dans les bras de Stefan)
Episode 10
Caroline:I was alone when i turned. I had no control over my body or my urges and i killed somebody. I don't want that to happen to you. I don't want you to be alone./J'étais seule quand je me suis transformée. Je ne contrôlais pas mon corps ni mes instincts et j'ai tué quelqu'un. Je ne voulais pas que ça t'arrive. Je ne veux pas que tu sois seul.
Episode 13
John:I know I'm nothing to you. You have no reason to believe me or trust me. I've done so many horrible things but when you lost your parents, I lost my brother, my family. I lost my way. I know that won't probably never gonna make things right with you but I'm gonna do everything I can to protect you and protect this family /Je sais que je ne suis rien pour toi. Tu n'as aucune raison de me croire ou de me faire confiance . J'ai fait tellement de choses affreuses mais quand tu as perdu tes parents, j'ai perdu mon frère, ma famille. Je me suis égaré, je sais que je ne pourrais pas arranger les choses avec toi mais je vais faire tout ce que je peux pour te protéger toi et cette famille
Episode 14
Stefan :Because I've already lived. 162 years I have lived, and you've barely begun, and now you want to let yourself get killed? That's not heroic. It's tragic/ Parce que j'ai déjà vécu, j'ai vécu 162ans et tu as à peine commencé et maintenant tu veux te laisser te faire tuer? C'est pas héroïque, c'est tragique.
Tyler :I've been going through a rough time, something I can't really talk about, and Caroline's been helping me through it. She's been there for me more than anyone's ever been there my entire life/J'ai traversé une période difficile, un truc dont je ne peux pas parler. Et Caroline m'a aidé à surmonter ça, elle à été là pour moi, plus que n'importe qui durant toute ma vie
Episode 15
Stefan:Lexi showed me that there was another way. And from that day forward, I started fighting for it. For my own survival. That's all I want you to do. I just want you to fight for it/Lexi m'a montré qu'il y a avait un autre moyen. Et depuis ce jour , j'ai commencé à me battre pour ça. Pour ma propre survie. C'est tout ce que je veux juste que tu te batte pour ça
Alaric :I am your friend, damn it. And you don't have any friends. So, no more lying/ Je suis ton ami bordel et tu n'as aucun ami alors plus de mensonges
Episode 17
Caroline:You know, this wasn't how it was supposed to happen. You know, I was supposed to tell him at the right moment in the right way, and he was supposed to be ok with it because he loves me" /"Vous savez ce n'est pas comme ça que cela était supposé se passer . J'étais supposée lui dire au bon moment , au bon endroit et il était supposé être ok avec ça parce qu'il m'aime
Isobel:I'm so sorry, Elena... That I was such a disappointment to you/Je suis désolée d'avoir été une telle déception pour toi
Elena:You screw up everything, John. Everything you touch just falls apart. But you're the only Parent I have left so maybe I can learn not to hate you /Tu foires absolument tout John. Tout ce que tu touches tombe en morceaux. Mais tu es le seul parent qu'il me reste . Alors peut être puis je apprendre à ne pas te haïr
Episode 18
Jeremy :I have to do something. I can't just... I can't just let you get yourself killed. I'm sorry. But... you know I don't have the best luck in the girlfriend department/Je dois faire quelque chose, je ne peux pas ..Je ne peux pas simplement te laisser te tuer. (…)Je suis désolé mais du côté petite copine j'ai pas eu beaucoup de chance
Bonnie: Just answer one question... if the situation was reversed, would you do it for me?/ Juste une question, si la situation était inversée, est ce que tu ferais ça pour moi?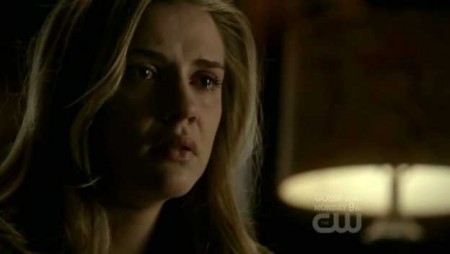 Episode 19
Jenna: No, Elena... I am the one who's supposed to be protecting you and Jeremy/ non Elena...je suis supposée te protèger toi et Jeremy
Katherine:True love is not real unless it's returned. Life is too cruel. If we cease to believe in love, why would we want to live?/ la vie est trop courte. Si nous cessons de croire en l'amour, pourquoi voudrions nous survivre?
Klaus:Love is a vampire's greatest weakness, and we are not weak, Elijah. We do not feel, and we do not care/ L'amour est la plus grande faiblesse d'un vampire, et nous ne sommes pas faibles Elijah. Nous ne ressentons rien et nous ne nous attachons à personne.
Stefan:There it is. You know, you can be in love with Elena all you want... If it means that you'll protect her. But I have the one thing that you never will: Her respect/Tu sais tu peux être autant amoureux d'Elena que tu veux . Si ça veut dire que tu vas la protéger. Mais j'ai la seule chose que tu n'auras jamais : son respect
Episode 20
Stefan:Anger becomes rage. When you're sad, you're in despair. Grief. Loss. It can cripple you. That's why so many of us turn our emotions off. It just becomes... Too overwhelming. You know, for a while, for me, the good just wasn't worth the bad/ La colère devient rage. Quand tu es triste , tu deviens désespéré. La douleur . La perte. Ca peut te paralyser. C'est pourquoi beaucoup d'entre nous renferment leurs émotions . Ca devient trop oppressant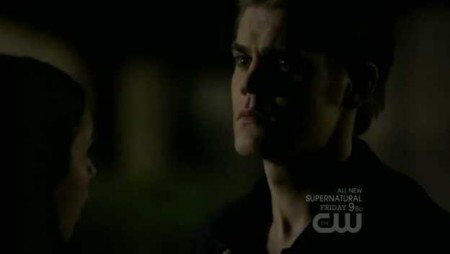 Elena:I'm 17 years old. How am I supposed to know any of this yet? I know that I love you, Stefan. I know that. But my future? Our lives together? Those were things I was supposed to deal with as they came along. I was supposed to grow up Decide if I want to have kids and start a family. Grow old. I was supposed to have a lifetime of those choices, and... now? That's all gone. I don't want to be a vampire, Stefan. I never wanted to be one" /"J'ai 17 ans , comment suis-je supposé connaitre tout ça et encore. Je sais que je t'aime Stefan. Je le sais ça. Mais mon futur? nos vies ensemble? Ce sont des choses auxquelles je suis supposée faire face à mesures qu'elles arrivent. Je suis supposée grandir. Décider si je veux avoir des enfants et fonder une famille . Devenir adulte. J'étais supposée avoir une durée de vie pour pouvoir faire ces choix et maintenant? Tout ça c'est fini. Je ne veux pas être un vampire, Stefan. Je n'ai jamais voulu en être un"
Tyler: I knew you hated me. I thought you deserved better than having someone like me in your life/ Je savais que tu me detestais . Je pensais que tu méritais mieux que d'avoir quelqu'un comme moi dans ta vie.
Caroline:I was hurt. You know, you turned your back on me when I needed you. But... I could never hate you, Tyler/ J'ai été blessé. Tu sais , tu m'as tournée le dos quand j'avais besoin de toi masi je ne pourrais jamais te detester Tyler
Elena :Stefan, hey, hey, it's fine, it's fine. I'll go. No one needs to get hurt. There's no reason for you to get hurt. Close your eyes. Close your eyes/ Je vais y aller . Personne n'a besoin d'être blessé. Il n'y a pas de raison que tu sois blessé. Je t'aime. Ferme tes yeux. Ferme tes yeux
Episode 21 :
Elena (before Jenna's death): Just turn it off. Jenna. Turn it off. You won't be scared anymore/ Eteins-les (les sentiments humains) Jenna. Eteins-les. Tu n'auras plus jamais peur.
La lettre de John: "Elena... it's no easy task being an ordinary parent to an extraordinary child. I failed in that task."And because of my prejudices, I failed you. I'm haunted by how things might have played out differently. If I'd been more willing to hear your side of things. For me, it's the end. For you, a chance to grow old and someday do better with your own child than I did with mine. It's for that child that I give you my ring.I don't ask for your forgiveness or for you to forget. I ask only that you believe this. Whether you are now reading this as a human or as a vampire, I love you all the same as I've always loved you, and always will. John. " /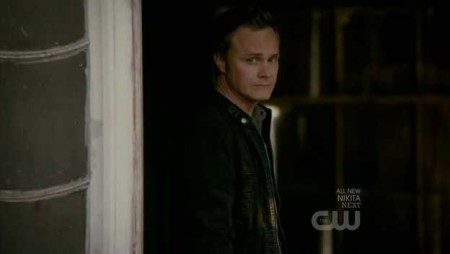 Elena ce n'est pas chose facile d'être un parent ordinaire pour une enfant extraordinaire. J'ai échoué dans ma tâche. Et à cause de mes préjugés, je t'ai perdu. Je suis hanté parce que les choses auraient pu être si j'avais été plus enclin à écouter ton point de vue. Pour moi c'est la fin. Pour toi , une chance de grandir et un jour faire mieux avec tes propres enfants que moi avec le mien. C'est pour cet enfant que je te donne ma bague. Je ne demande pas ton pardon ou que tu oublies , je te demande seulement que tu crois ça. Peu importe que tu lises ça en tant qu'humaine ou vampire, je t'aime tout autant. Comme je t'ai toujours aimé et je te t'aimerais toujours, John.
Tyler: Thank you, Caroline. For taking care of me/ Merci Caroline de prendre soin de moi
Jeremy: I still have you/ Je t'ai toujours toi
Episode 22:
Stefan: Help me save my brother/ Aide moi à sauver mon frère
Elena: It's ok. I forgive you/ c'est ok. Je te pardonne
Elena:I like you now. Just the way you are/ Je t'apprécie maintenant. Juste comme tu es