Damon aime jouer de son humour arrogant voir ironique qui lui est très personnel. Sa marque de fabrique c'est bien sûr les petits mots tel que "Oops" ,"Touché", "Ouch","Yep","Ouep","Move", "Nope" "Oh yeah" "Shut up" mais aussi ses fameuses répliques que l'on va qualifier de Damonesques !! Bonne lecture!

~¤~ SAISON 2~¤~
Episode 1:
"I would honored to help keep this town safe from vampires" / "Je serais honoré d'aider à protéger cette ville des vampires"
"You know, when two lips pucker and then.." / "Tu sais quand les lèvres se touchent et qu'elles.."
"That's me, the trusted bodyguard, calm in crisis" / "C'est moi, le garde du corps, le calme dans la crise"
Episode 2:
"Are you worried one day that all the forest animal will band together and fight back? After all they talk " / "Tu n'es pas inquiet qu'un jour, les animaux de la forêt se lient et se défendent? Apres tout, ils parlent."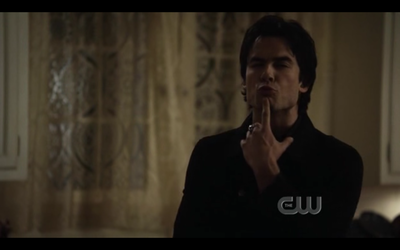 " Well, I fed her blood and Katherine obviously killed her and A + B equals…" / "Et bien, je lui ai donné de mon sang et Katherine l'a apparemment tuée, et A + B égal.."
"Look, I don't do the big brother thing very well. Sorry, I don't have any milk and cookie stuff for you" / "Ecoute, je ne suis pas très doué pour les conseils de grand frère. Désolé, je n'ai pas de lait et de cookies à te proposer"
Episode 3:
"I got you something to drink? Coffee, bourbon? Bourbon into coffee" / "Tu veux quelque chose à boire? Un café, un bourbon? Du bourbon dans ton café?"
"Elena i saw the ring! It's a big tacky thing. It's hard to miss"/ "Elena, j'ai vu la bague, cette grosse babiole, difficile de la louper"
"That bitch is dead"/ "Cette garce est morte"
"You're trying to manipulate me" / "tu essayes de me manipuler"
"I'd be extra nice to me right now" / "Je serais très gentille avec moi à votre place"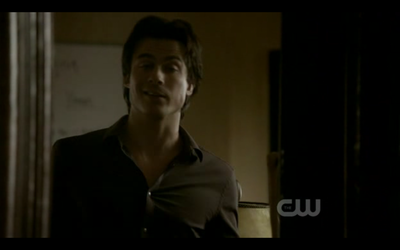 "You know, if you want to see me naked, all you have to do is ask"/ "si vous voulez me voir nu, vous n'avez qu'à le demander"
"Ah you know, it's bummer, we're not frineds anymore because i could tell you what i know" / "Ah tu sais, dommage qu'on ne soit plus amis, je pourrais te dire ce que je sais"
"Road trips work well for us" / "Les virées ça marche bien pour nous"/
"Oh come on! You know i chipped a little bit off your wall of hatted"/ "Oh allez! Je sais que j'ai un peu perçé ton mur de la haine"
Episode 4:
"It's was my idea. Jenna went to High school with Mason Lockwood so I figured social gathering would be good way to get to know the guy. So i told Rick to told Jenna and..."/ " C'était mon idée. Jenna est allée au lycée avec Mason Lockwood donc j'ai pensé qu'un rassemblement serait un bon moyen pour apprendre à connaitre ce mec. Donc j'ai dit à Rick de dire à Jenna que.."
"Really? That's weird cause i'm dick"/ "Vraiment, c'est bizarre parce que je suis un con"
"Really? I always pegged you for a lone wolf" / "Vraiment? Je te prenais pour un loup solitaire"
"You except me to believe that you are in mystic falls planting peace?" / "Je suis supposé croire que tu es à Mystic Falls pour planter des arbres de paix? "
"Alaric? Let's not catch that game next week" / "Alaric?, ne nous voyons pas au match la semaine prochaine"
"I tried to kill a were wolf, i failed. Now i feel like i'm not living up to my best self " / "Je n'ai pas réussi à tuer un loup garou .Alors je me sens pas au meilleur de ma forme."
Episode 5:
"I don't want peace" / "Je ne veux pas la paix"
"Relationships are about communication" / "Les relations sont fondées sur la communication"
"I'm not listening anymore of you "get peace a chance" crap. He's dead" / "Je ne vais pas écouter tes conneries sur la paix, il est mort"
"Don't look so surprised. You knew this was inevitable. Go ahead, run. I give you a head start." / "Ne sois pas si surpris. Tu savais que c'était inévitable. Allez, vas-y. Je te donne une longueur d'avance."
Episode 6:"This is the same book that says the werewolf bite kills a vampire. Ignoring it make me an even bigger idiot. Let's go" / "Ce livre est le même qui dit que la morsure de loup-garou tue un vampire. L'ignorer ferait de moi un idiot encore plus grand. Allons-y " à Jeremy"He's playing Indiana Jones, he involved himself"/"Il joue Indiana Jones, il s'implique"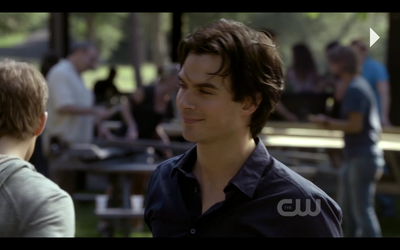 "Mason Lockwood's a werewolf, Katherine's evil. They're the bad guys"/Mason Lockwood est un loup garou, katherine le diable en personne, c'est eux les méchants". à BonnieYou now, when I look at you I see myself, less dashing and less intelligent version "/" Tu sais , je te regarde et je me vois en moins fringuant et moins intelligent"
"You want to be a part of this? Well, here it is! Kill or be killed! The guy is a werewolf; he'll kill me the first chance !" / "tu veux en faire partie ? Eh bien, c'est ici! Tuer ou être tué! Le gars est un loup-garou, il va me tuer à la première occasion"
"I've had a very busy day today. I killed a werewolf, found the moonstone. Hey, did you know that he hide the moonstone at the bottom of a well full of vervein? I guess he didn't trust you very much but he did love you. Poor guy "/ "J'ai été très occupé aujourd'hui , j'ai tué un loup garou, trouvé une pierre de lune . Tu savais qu'il cachait la pierre de lune au fond d'un puit rempli de verveine? . Je suppose qu'il te faisait pas si confiance que ça mais il t'aimait pauvre garçon."
Episode 7:
"Yeah. Cold feats speak now. I don't want this going wrong with someone chicken's out. Caroline?" / "Ouais, que les poules mouillées parlent. Je ne veux pas que tout foire à cause de quelqu'un qui a la trouille. Caroline?"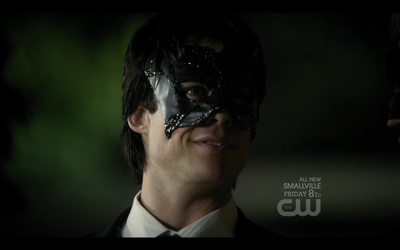 "Well that is the forkenate road between you and me my friend. I don't hesitate"/C'est bien là la différence entre toi et moi mon ami. Je n'hésite jamais."
"Sorry about your pet wolf, you should have been sure to keep him in a tighter leash "/"Désolé pour ton loup de compagnie, tu aurais du mieux le tenir en laisse"
Episode 8:
"Ah, it's so sweet. You're gonna be all big and strong and save your girl but don't worry, I've got your back. It'll be fine" / "oh trop mignon tu vas être super fort pour sauver ta copine, t'inquiète je te couvres"
"Hmm, how romantic. Since we're road trip bonding, remember the days when all you lived for was blood? You were the guy who ripped someone apart just for the fun of it"/"hmm, c'est trop romantique. Vu qu'on se rapproche , tu te souviens de l'époque où tu vivais pour le sang , où tu attaquais les gens pour t'amuser "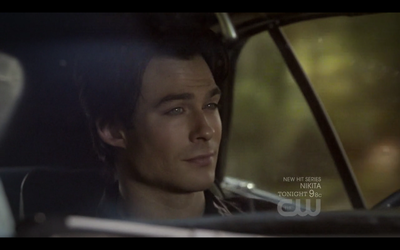 "Yes, Stefan, exactly. Back when you put blood into me so I could be a big bad vampire. I wonder if Elena would be so quick to open her veins to that guy. By the way, what happened to that guy? He was a hoop/ "oui Stefan, exactement, tu me donnais du sang pour que je sois un méchant vampire. Elena donnerait pas son sang aussi facilement à ce gars . Il est passé où ce gars? il était marrant"
" I love you Elena and that's beacause I love you , i can't be selfish with you... I don't deserve you , but my brother does. Gosh i wish you didn't have to forget this, but you do!" / " Je t'aime Elena et c'est parce que je t'aime que je ne peux pas être egoïste avec toi. Je ne te mérite pas mais mon frère oui . Mon dieu, j'aimerais que tu n'ais pas à oublier ça , mais tu le feras!"
Episode 9:
"Good, just one thing. If you are setting me up in any way, i will rip your heart out and shave it down your throat. It's something i'm very good at" / "Bien juste une chose, s'il y a un coup monté contre moi, je t'arracherais le cœur et te l'enfoncerais dans ta gorge. C'est quelque chose pour lequel je suis très doué."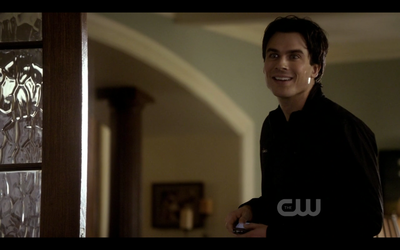 Episode 10:
"Yep we're awesome/Oui ,on est géniaux "
"Jeez thank you 16 years old child. Why didn't we think about that? Why are you even here? "/"Merci gamin de 16 ans, pourquoi on y a pas pensé ?"
"I was too busy saving you from your stupid kamikaze mission" / "J'ai été très occupé à te sauver de ta mission Kamikaze"
"You martyr yourself into a tomb and i got to partner with a semi competente witch? Wonderful!" / "Tu t'enfermes dans un tombeau et je dois faire équipe avec une sorcière pas douée? Magnifique!"
Episode 11
"Vampire Barbie asked me if she can handle this and why not? Because if she screwed up he'll bite her and i'll be rid of two of my problem"/ "Barbie vampire m'a demandée si elle pouvait s'en charger et j'ai dit pourquoi pas , je suppose que si elle merde, il va la mordre et ensuite je serais débarrassé de deux de mes problèmes"!
Episode 12
"Damn. There goes my plan to rip her spleen through her back" / "Zut. Ecoute j'avais prévu de lui arracher la rate par le dos"
"I'm gonna have a friendly chat with lady wolf, brother. Ease up" / "Je vais avoir une conversation amicale avec madame la louve garou , mon frère détend-toi"

"My baby brother is not exactly my priority right now" / "Mon bébé de frère n'est vraiment pas ma priorité pour l'instant"
"Not that kind of lost. Metaphorically. Existentially" / "Je ne suis pas perdu de cette manière. Métaphoriquement. Existentiellement."
"You went on a murderous rampage. It happens" / "Tu as été prise de folie meurtrière ça arrive"
" Go home. There's been enough doom, gloom, and personal growth for one night" / "Rentre chez toi , il y a eu suffisamment de morosité, de sinistre et de développement personnel pour cette nuit"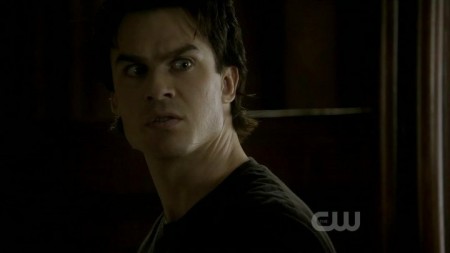 "I'm not nice. I'm mean, i like it" / "Je ne suis pas gentil, je suis méchant, j'aime ça"
"I have a secret, a big one. But I've never said it out loud. What's the point? It's not gonna change anything. It's not gonna make me good, make me adopt a puppy. I can't be what other people want me to be. What she wants me to be. This is who I am. " / "J'ai un secret , un très grand secret . Mais je ne l'ai jamais dit à voix haute . Je veux dire c'est quoi le but ? Ça ne va pas tout changer. Ca ne va pas me faire devenir bon, me faire adopter un chiot. Je ne peux pas être ce que les autres veulent que je sois. Ce qu'elle veut que je sois"
"You are my existential crisis. Do I kill you or do I not kill you? But I have to Jessica, because I'm not human. And I miss it. I miss it more than anything in the world. That is my secret. But there is only so much hurt a man can take" / "Tu es ma crise existentielle. Est-ce que je te tue? Est-ce que je ne te tue pas? Mais je dois le faire Jessica, parce que je ne suis pas humain. Et ça me manque, ça me manque plus que tout au monde. C'est mon secret. Mais il y a une limite à ce qu'un homme peut endurer. "
Episode 13
" This guy tried to barbecue me " / " Ce gars à essayer de me faire rôtir "
"It means I care, Stefan. That's means I'm changing evolving into a man capable of greatness. Better watch your back because I may just have to go get a hero hairdo of my own and steal your thunder" / "Ca veut dire que j'ai des sentiments Stefan, je suis en train de changer, je deviens un homme capable de grandeur d'âme. Fais gaffe à toi. Je pourrais me faire une bonne coupe de cheveux de héros et te couper l'herbe sous le pied"
"I'm the good guy now, remember?" / " je suis gentil maintenan, tu te rappelles?"
"John, buddy, how have you been? " / "John mon pote comment ça va?"
"I don't see that magic little ring on that stitched finger so if you know something about Klaus, you better start talking or I will kill you in your sleep" / "Je ne vois pas cette bague magique à ton doigt? Donc si tu sais un truc sur Klaus, tu ferais mieux de parler ou je te tuerais dans ton sommeil"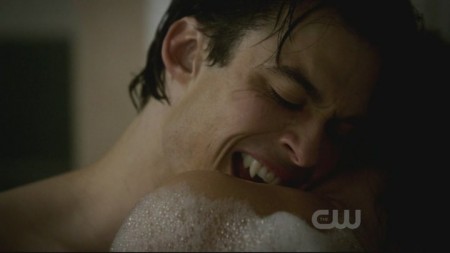 "He's a werewolf, he needs to die. I'm willing to kill him, it's win-win" / "C'est un loup garou, il doit mourir . Je veux le tuer. C'est gagnant-gagnant"
"First dad duty: ground your daughter. Keep her here"/"Premier devoir de père, punis ta fille. Garde-la ici"
"My brother the peacemaker . Since Stefan got here before me I'm gonna let him try to his way before I resort to my way, which is a little bloodier" / "Mon frère le médiateur. Vu que Stefan est arrivé le premier , je le laisse essayer à sa façon avant d'essayer la mienne qui est un peu plus sanglante"
"Give us Caroline. Without a full moon it's not an even fight and you know it. We will take you" / "Donne-nous Caroline, sans pleine lune c'est pas équitable, on gagne de toute façon"
"You heard her. Go. Get over there" / "Tu l'as entendu? allez bouge de là"
"I'll bite" / "Je mords"
"Just stop talking. Just kiss me, be my distraction" / "Arrête de parler, embrasse moi et sois ma distraction"
Episode 14
"My new girlfriend, Andie star, action news" / "Ma nouvelle copine, Andie Star, Action News"
"What are you up to today, Mr. Saltzman?"/ Comment allez vous aujourd'hui Mr Saltzman?"
"Oh, if you only knew the irony of this moment right now. Let me tell you how this is gonna go. You're gonna torture me, I don't talk, Someone loses a heart." / "Si seulement tu connaissais l'ironie de ce moment. Laisse-moi te dire comment ça va se passer, tu vas me torturer, je ne parle pas, quelqu'un perd un cœur."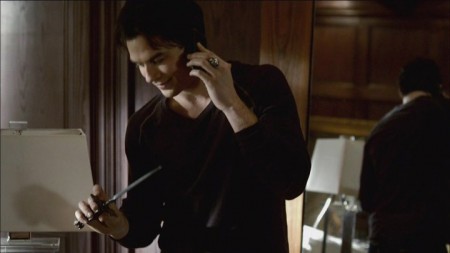 Episode 15
"Well, I showered. I shaved. Had breakfast. Very relaxed" / "Eh bien je suis douché, rasé, j'ai pris mon petit déjeuner. Le paradis."
"Yes, Stefan, I've become you. How tragic for both of us. Got to run. I've a murder to plan. Busy day" / "Oui Stefan, je suis devenu toi. C'est si tragique pour nous deux. Je dois y aller, j'ai un meurtre à préparer. Longue journée"
"I get you out of here and your ass is sipping Klaus-free margaritas on some unknown island somewhere .No way." / "Je te sors d'ici et ton cul sirotera des Margaritas sans Klaus sur une île déserte quelque part. Sûrement pas."
" Guess who's coming to dinner?" / "Devine qui vient dîner?"
"There's no such thing as a bad idea. Just poorly executed awesome ones" / "Il n'existe pas de mauvaises idées, que des idées géniales mal exécutées"
"Scout's honor" / "Paroles de Scout"
"John! Surprise... Leave" / "John ! Surprise... Pars"
Episode 16
"If you know something, say it or get out"/"Si tu sais quelque chose dis-le ou sors"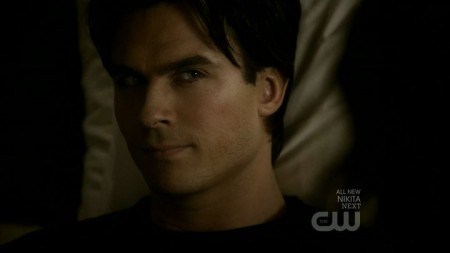 "What did papa witch and baby witch have to say?" / "Qu'en disent Papa et bébé sorcier?"
"Nope. You know this whole friendly, cooperative thing?" / "Tu sais tout ce truc amical et coopératif, je n'y crois pas"
"Shutting down a crazy ass psychic witch attack!" / "Je mets fin à l'attaque stupide de l'esprit d'un sorcier"
"Katherine. Katherine, there are six other bedrooms in this house" / "Katherine, Katherine il y a six autres chambres dans cette maison. Va en trouver une"
Episode 17
"Great. We'll have to put that on our list of things to do today" / "Super. On devrait rajouter ça à notre liste de choses à faire aujourd'hui"
"Not me. I have witch stuff to attend to with Bonnie" / "Pas moi, je dois assister à un truc de sorcière avec Bonnie"
"Let me be honest with you. Don't mistake the fact that we haven't set you on fire in your sleep for trust" /"Laisse moi être honnete avec toi. Ne confond pas le fait que nous ne t'ayons pas mis le feu pendant ton sommeil avec de la confiance "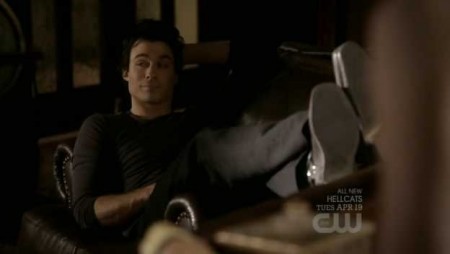 "Emily was just my key to getting Katherine back before I knew what a nasty little bitch Katherine was" / "Emily n'était que mon sésame pour récupérer Katherine avant que je ne sache quelle vilaine petite salope Katherine était en réalité"
"Screw you, too, Emily. You know, you're on your own in there" / "Je t'emmerde aussi, Emily. Vous savez, vous êtes livrés à vous-même là-dedans"
"Although I'll be super pissed if you lock me out" / " Bien que je serais super furax si tu m'enfermes dehors"
Episode 18
"What are we, 12?"/ "On a quel âge 12 ans?
"Shut up" / "Tais-toi" à Stefan
"Your way, Elena" / "A ta façon Elena"
"Something tells me he's not going to be 16 and pimply" / "Quelque chose me dit qu'il n'aura pas 16 ans et ne sera pas boutonneux
"It's a party, people. Blend. Let him come to us" / "C'est une fête, les gars . Fondez-vous dans la masse. Laissez-le venir à nous "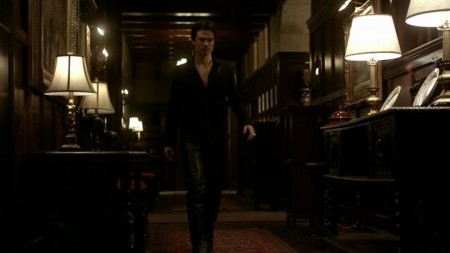 "Cool as a cucumber. Come on, remember the last decade dance? The vampires were all, "ahh!" And you were all, "aahh!" / "Aussi frais qu'un concombre. Allez, tu te souviens de la fête de l'an dernier? Les vampires étaient là "Ahh"et toi tu étais là "Aahh""
"I've got moves you've never seen" / "je connais des passes que tu n'as jamais vues"
"I don't mind being the bad guy. I'll make all the life and death decisions while you're busy worrying about collateral damage. I'll even let her hate me for it. But at the end of the day, I'll be the one to keep her alive" / "Je me fiche d'être le méchant. Je prendrais toutes les décisions de vie ou de mort pendant que tu seras occupé à t'inquièter des dommages collatéraux. Je vais même la laisser me détester pour ça. Mais à la fin de la journée, je serais celui qui la garde en vie."
"Apology accepted. Let me be clear about something. If it comes down to you and the witch again, I will gladly let Bonnie die. I will always choose you" / " Excuses acceptées . Laisse-moi être clair sur quelque chose. Si un jour ça se ramène entre toi et la sorcière, je laisserai joyeusement Bonnie mourir. Je te choisirai toujours "
Episode 19
"She's lost it"/ "Elle pète un câble"
"Wow, I'd love to lend you a hand, but you wouldn't want me doing anything stupid" / "J'aurais adoré t'aider mais tu ne voudrais pas me laisser faire quelque chose de stupide"
"You and your girlfriend are calling the shots. I'm just backing off, Stefan"/ "Toi et ta copine menez la garde. Je me retire Stefan"
"Splitting from the team. Going rogue"/ "Fractionner l'équipe. Devenir machiavélique."
"No, sweetie. We are here to see if she deserves to be rescued" / "Non chérie, on est venu voir si elle méritait d'être sauvée"
"That's twice today you've stood in my way. I wouldn't try a third" / "C'est la deuxième fois que tu te met en travers de mon chemin. Je n'essaierais pas une troisième"
"You can all go to hell"/ "Vous pouvez tous aller en enfer"
"I'm upset. And you know what happens when I'm upset. You have to leave" / "Je suis contrarié et tu sais ce qui arrive quand je suis contrarié. Tu dois partir"
" Get out of here, before I kill you. Just go. Go. Now!" / "Pars d'ici, avant que je te tue. Pars. Vas y. Maintenant!"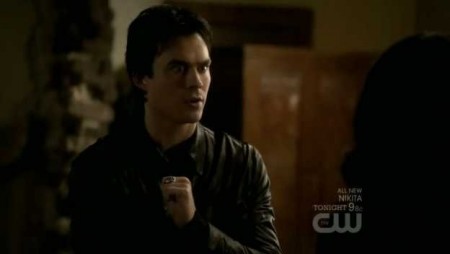 Episode 20:
"I'll write her a great eulogy "/ "Je lui écrirais un super éloge funèbre" à Elena
"I'm surrounded by idiots. I need all the help I can get" / "Je suis entouré d'idiots , j'ai besoin de toute l'aide que je peux trouver"
"Go ahead; wish me an eternity of misery" / " Allez vas-y souhaite-moi une éternité de misère"
"Admit it. You just wish you had the balls to do it yourself" / "Admets-le . Tu rêves juste d'en avoir autant pour le faire toi-même"
"You think if I took his werewolf out of the equation, she might... Get over the fact that I tried to turn her into a vampire?" / "Tu penses que si j'enlève son loup garou de l'équation, elle pourrait…passer au dessus du fait que j'essaye de la transformer en vampire? "
"Imagine how much fun that will be competing with Elena for Stefan's love for, I don't know, forever" / "Imagine à quel point ça pourrait être marrant de voir Elena et Stefan amoureux pour, je ne sais pas, pour toujours? "
"Listen, man. Not a good time to play the hero" / "Ecoute mec, pas le bon moment pour jouer les héros"
"You're lucky I already screwed up once today or you'd be dead" / "Tu es chanceux , j'ai déjà foiré une fois aujourd'hui sinon tu serais mort".
"I've come here to tell you that you have to postpone the ritual" / "Je suis venu te dire que tu vas devoir post-poser le rituel "
Episode 21 :
"Great. I was just thinking about getting a bite to eat " / "Super. J'étais justement en train de penser à manger un morceau"
"God, Stefan, damn it!"/ "Bon dieu, Stefan, merde!"
"I'm fine. Well, that's my brother for you. Always cleaning up my messes"/ "Je vais bien. C'est bien mon frère ça. Il répare toujours mes erreurs"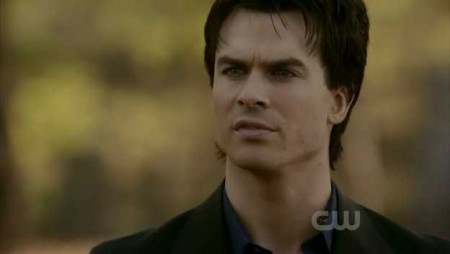 "Skip to the save Elena part" / "Passe à la partie "sauver Elena"
"You're going to put your faith in some act of god mumbo jumbo?" / "Vous allez croire à tout ce charabia religieux?"
"If you come back as a vampire, I'll stake you myself. So don't. Because I can't stand the idea of you hating me forever" / "Si tu reviens en tant que vampire, je te tuerai moi-même. Donc ne le fais pas. Parce que je ne pourrais pas supporter l'idée que tu me détestes pour toujours."
"I think I'll skip the coffee and tea cakes" / "Je pense que je vais sauter le café, le thé et les gâteaux "
Episode 22:
"What's the plan, Superman?"/ "C'est quoi ton plan superman"
"Always the hero, Stefan. Just tell me good-bye, get it over with"/ "Toujours à faire le héros Stefan. Dis-moi simplement au revoir, finissons-en"
"So my brother sent you for suicide watch?"/ "Alors mon frère t'a envoyé pour surveiller le suicidaire ?"
"You should have met me in 1864. You would have liked me"/ "Tu aurais du me rencontrer en 1864. Tu m'aurais apprécié"
"All those years, I've blamed Stefan. No one forced me to love her. It was my own choice. I made the wrong choice. You tell Stefan I'm sorry" / "Toutes ces années j'ai blâmé Stefan, personne ne m'avait forcé à l'aimer. C'était mon propre choix. J'ai fait le mauvais choix. Dis à Stefan que je suis désolé"
"'Cause if I'd have chosen differently, I wouldn't have met you. I'm so sorry. Done so many things to hurt you"/ "Parce que si j'avais choisi différemment , je ne t'aurais pas rencontrée. Je suis vraiment désolé d'avoir fait tant de choses pour te blesser "